ARCA can provide Clients with safes designed to protect their cash supplies and other valuables. ARCA can satisfy all safe requirements of any Client including the supply of fully armoured vault rooms and facilities.
ARCA carries in its inventory a vast selection and choice of locks, both mechanical or electronic and can provide an array of intelligent smart safes for total cash control that minimizes shrinkage and losses.
Our Smart Safe solution offers the ultimate for retail and commercial customers who routinely handle cash on a regular basis.
Security lock services are offered by our authorized licensed partners.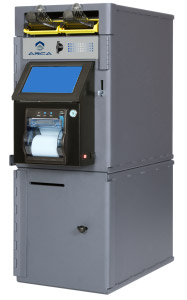 Our solution provides:
• Secure Cash Handling: validates the cash, rejects counterfeits and reduces deposit preparation time.
• No Upfront Costs: Installation is easy and the system is tailored to your needs.
• Automatic Reporting: All cash is tracked with comprehensive reports including on-line web portal.
• Closed Loop System: Opportunities for theft are greatly eliminated. All gaps in the process are streamlined reducing theft and shrinkage. Profitability increases.